See my newer review of Luminar Neo here

(use Code STEELE10 to save an additional $10)
Click on "Enter Promotional Code" in the the Luminar shopping cart :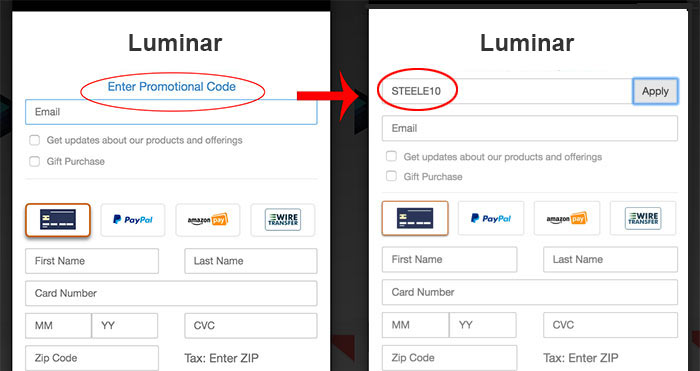 Your Luminar Questions Answered
Here are some common questions from my subscribers:
Q. Does Luminar edit RAW photos?
A. Yes, Luminar is an excellent RAW editor. In the Edit module just choose the "Professional" workspace or open the "RAW Develop" Filter to get the full set of controls. As with other RAW editors (like Lightroom) new camera RAW formats are added as quickly as possible. You can see a complete list of currently compatible RAW formats here. (Basically, all cameras are covered, but if you have a brand new camera with a new format, yours will be in there soon).
Q. Will I get future Luminar updates for free?
As with most software, minor version updates (i.e., 3.2, 3.3, 3.4, etc) are available free, but when they make a major upgrade, for example to version 4.0 with significant new features, then they will offer existing owners a discount on that upgrade. This is pretty standard for the software industry.
Q. Am I switching from Lightroom to Luminar?
A. Not entirely. I have nearly a decade of Lightroom catalog-building (with keywords, ratings, etc) at this point, so I'm not leaving the Lightroom Library behind any time soon. (Plus, I make Lightroom training videos, so I need to keep using it for that).
But I am now incorporating Luminar into my photo editing workflow. Sometimes I skip Lightroom and do a "quick edit" in Luminar, then I go back later and Import the photos to LR and catalog them. (This is inefficient: I should always Import to LR first and then use Luminar as a plug-in for my quick edit, but as you know, importing to LR can be a pain). One day down the line, when Luminar rolls out its Lightroom Migration tool, I might consider switching entirely. But that's a long way off. For now, Luminar makes a great supplemental editor—especially the AI filters for quick edits—and I'm enjoying its boost to my Lightroom workflow.